As the name suggests, a micro wedding is a smaller but more intimate version of a regular wedding. The size of a wedding is chiefly determined by the size of the guest list. There is no specified number of people who should attend a micro wedding, but the guest list is usually trimmed down to include only the people who truly matter to you. Therefore, the number will vary from one wedding to another.
Typically, a micro wedding can have anywhere between a handful of guests to upward of fifty people, inclusive of the vendors. However, it is possible to go below or above that number. It is good to note that having a smaller wedding does not mean doing away with the traditions of a classic wedding. If anything, the day is supposed to flow as a regular wedding would but on a smaller scale. And now that you have a smaller guest list, you are at liberty to try out things that would have not been possible with a bigger crowd.
The wedding should be planned in such a way that is more intimate, meaningful, and fun than it would have been if it were bigger.
So why should you have a micro wedding?
Why you choose a micro wedding over a big wedding?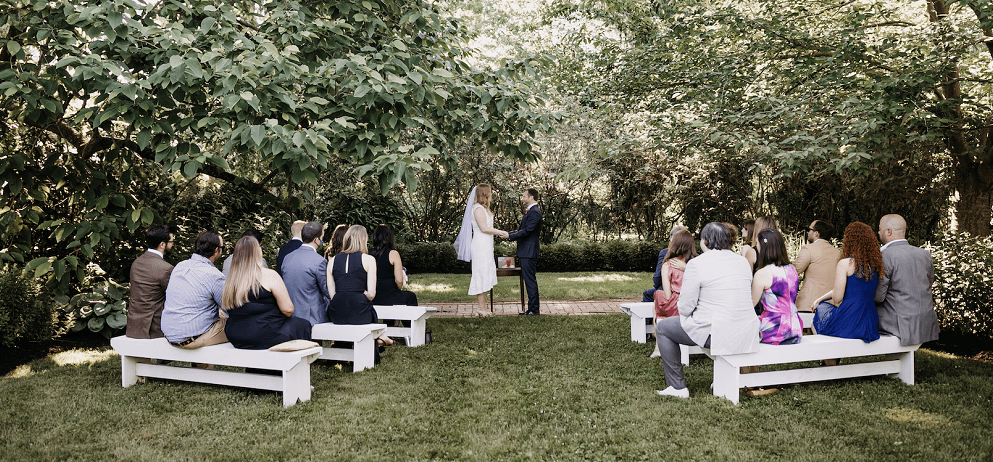 1. Save and reallocate money
Generally speaking, a wedding is usually a very expensive affair and the most effective way of bringing down the cost is by reducing the number of attendees. Usually, a big portion of the budget goes to food and catering needs, but with a smaller guest list, you will be able to significantly trim the budget. Also, a smaller wedding means that you will spend less on the venue, seating, decorations, and photography. So, if you have a tight budget, then consider having a smaller wedding.
On the other hand, even if you have a bigger budget, then having fewer guests allows you to spend a significant portion of the budget on other things such as décor, dressing, entertainment, and even superior catering services so you can have the kind of day you have always imagined. This way you can make your wedding unforgettable for you and your guests without straining or being too frugal.
2. Better venue possibilities
A micro wedding gives you more flexibility in terms of choosing possible locations and venues for your ceremony. You can afford to settle on a venue that wouldn't have worked with a typically-sized wedding. For instance, with a leaner guest list, it is possible to do your wedding at your dream destination. This could be a wedding by the beach, on an island, or on top of an iconic building. You can even use a private garden, rent out a park, a restaurant, or an art gallery. There is really no limit to what you can do as long the budget can allow.
You can even choose to have the wedding ceremony and reception in different venues that are far apart because it is easier to move a small number of guests from one place to another. Whatever your choice will be, ensure that you take full advantage of this chance to make your dreams a reality.
3. Involve and pamper your guests
A small wedding also allows you to make the event more meaningful and enjoyable for your guests. Because you're dealing with fewer people, it is possible to add a special personal touch at every stage of the wedding. For instance, you may choose to send handwritten notes or specially printed invitations to every guest.
Also, it is easier to involve your guests in the ceremony. And there are unlimited ways in which you could do this depending on the time available and your level of creativity. For example, you can have each one of them take part in the procession, or you could allow all of them to say something or make a presentation during your reception.
You can also include other activities that would not be possible in a typical wedding. For example, catering can be done by your favorite restaurant. You can also provide special and more intimate entertainment options such as a band or a magician. It is also possible to incorporate games into the day's program to make the occasion extraordinary. Therefore, take full advantage of the pared-down guest list to make the day special and memorable for your guests.
4. Intimacy and quality time
In big or typically-sized weddings, it is impossible to have a personal connection with each one of your guests. But a micro wedding allows you to spend quality time with each guest. With fewer people to greet and talk to, you can manage to give every guest a significant amount of time without missing out on the other activities that are happening. This creates intimacy and you will not be exhausted at the end of the day. The guests will also get to interact with another on a more intimate level.
5. Personalization
A micro wedding is also ideal for anyone who is hands-on and wants to play a huge role in planning their wedding. This is because it has fewer logistical challenges and doesn't require you to commit a lot of your time. If you are a do-it-yourself enthusiast, you may even choose to do some of the things yourself such as decorations and the setup to fit your tastes and preferences. Also, the fact that you can do most things by yourself means that you get to spend less. It would be harder to do this if you are having a big wedding.
6. Less stressful
Planning and coordinating a smaller wedding is so much easier because there are fewer people to please and less work involved. On the contrary, a big wedding can be a logistical nightmare. The fact that you are dealing with only close friends and family just makes everything easier and simpler because they are more accommodating and responsive.
How to plan a micro-wedding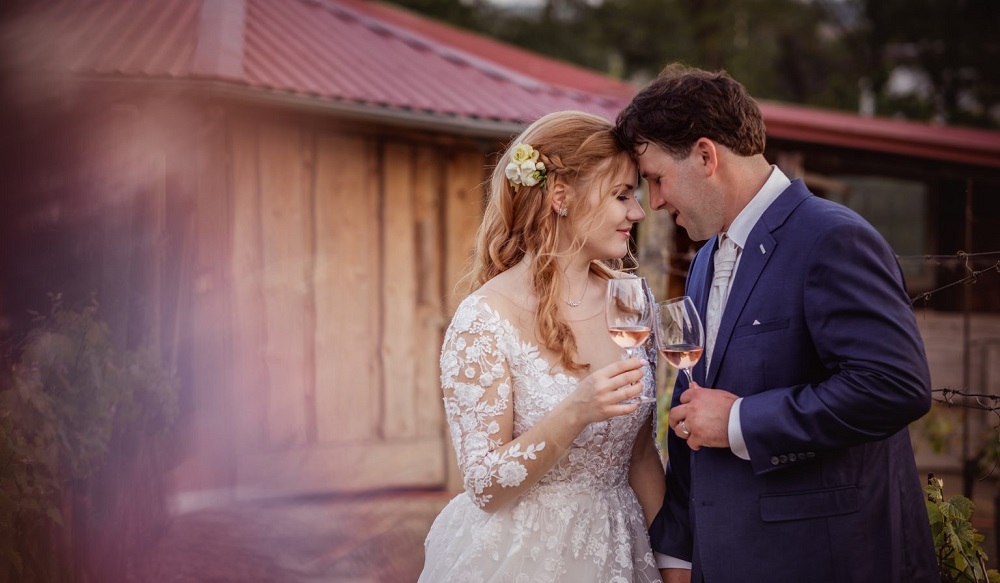 1. Coming up with a guest list
The hardest thing when planning a micro wedding is coming up with the guest list. Why? Because it can be hard to decide who should be on the list and who shouldn't. You have to strike a balance between relationships, venue capacity, and your budget. This means that at times you will have to leave out some people and they may not be very happy about it. But this has to be done because a micro wedding is an exclusive event.
The ideal number of guests will depend on the person planning the wedding but we recommend working with a guest list of around 20 people to achieve the perfect balance between intimacy and inclusivity. With the current health crisis, that number could be much lower because of the health guidelines provided.
So how do you decide who makes it to the list and who doesn't? The best approach would be to include only the nearest and dearest. Include only those with whom you have a very close connection. This could be your close family and the friends you see or interact with regularly. The smaller the number is, the more intimate your occasion will be.
2. Get a lean but quality team of vendors
The success of your wedding will be determined by the quality of services offered during the event. So, the fact that it is a small wedding does not mean that you should dispense with vendors or cut corners. As we said, this is actually your chance to seek quality services now that you will be catering to a smaller guest list.
It is always important to work with professionals who can do the job the way you would like it to be done. To cut down on costs, you do not have to engage them on a full-time basis. You can negotiate with them to charge you an hourly rate. This means you only get to pay them based on the exact amount of time you need them for. To begin with, get a planner. A good planner will make the planning and coordination to be smooth by helping you solve any challenges you may encounter along the way. Based on their experience, they can also anticipate any future problems and put in place measures to prevent or take care of any eventuality.
With this load taken off of you, you will be able to focus on more important things. Also, you have the assurance that the big day will turn out the way you have envisioned it. A planner will also support you in budgeting by getting rid of unnecessary costs so that you only spend your precious money wisely and get value for every dime. Also, having explained your vision to them, you can leave them to coordinate the other vendors to deliver the perfect micro wedding.
Second, hire a good photographer and videographer. These roles can be played by the same person. This being a very special day, you would want to document it in the best way possible. You do not need a whole production team. The smaller shot list means that one person is enough to cover the whole event. You can request the photographer to create a custom package for you depending on the number and the number of hours they will be shooting.
When it comes to décor, get someone who can create what you want. The smaller number means you will be using a smaller space or location and therefore you do not need a lot of decorations. So you do not need a fully-fledged events designer or a big team to set up. You can simply work with your florist and they can still pull it off with your guidance or that of the planner.
3. Catering
There is no better way to make your wedding memorable than with good food and service. With a small wedding, it is possible to provide high-quality catering without having to spend so much. Now that your guests are people that are close to you, you are in a position to choose a menu that fits their tastes and preferences so that everyone will be satisfied. Find out if the caterer can do a custom menu for you.
Depending on the guest count, select the most appropriate service package. For example, would you prefer a family or buffet style kind of service? Also, do you need to wait for staff? It is also important to note that some caterers make wedding cakes and even offer cake cutting services so you can bundle all that into one package. Depending on the beverages on offer, you can also ask for bartending services. Some venues offer in-house catering so that is an option you might want to explore if you want to make things easier. Booking for catering is usually done in advance to avoid last-minute hiccups.
4. Venue
As much as a micro wedding offers more venue possibilities, finding the perfect venue is not easy. In fact, the more options you have available, the harder it can be to settle on the best one. The most important thing is to go with a venue that aligns with your vision of a small but intimate event. It should also offer the aesthetic you are looking for. If you are an indoor person, then you can consider closed venues such as restaurants, art galleries, or even a warehouse. On the other hand, if you want a more natural setting, then you can work with gardens, parks, or even a beach.
Also, decide whether you want to have your wedding and reception in the same place. If not, make sure that you make arrangements on how the guests will move from one location to the other. This should not be difficult with few guests. As you calculate how much the venue will cost, remember to include décor and floral requirements as these could drive up the cost significantly. In addition, consider the seating arrangement and photography and video needs.
It is also important to think about the kind of activities you would want at your wedding. For example, do you need enough space for dancing or playing a game? Also, remember to factor in safety and health guidelines. Your planner or the person in charge of décor can help you with this. There are venues that offer full-service meaning they provide everything you need such as sound, décor, seats, and tables and some will even offer in-house catering. So if you want convenience you can go with that. If not, you can choose to bring in your own vendors and rent your own equipment.
For any other additional or special needs, the wedding planner should be in a position to give you the necessary support. Take advantage of the small guest to have the wedding of your dreams.
Conclusion
A wedding is supposed to mark the start of a new season in life. And so, as much as possible, you should try to make it as enjoyable and memorable as you can. There is no better way to achieve this than by having a micro wedding because you will be celebrating your big day with only the people that are dearest to you.