Consumers today are environmentally conscious and the demand for sustainably-sourced and eco-friendly goods has been rising steadily. This has forced companies across all industries to shift towards eco-friendly practices. This is especially common in the fashion industry where brands are outdoing one another to develop eco-friendly products.
As a result, many innovations in textile technology have been developed to ensure meet this demand for sustainability. One of the newest innovations is the use of coffee grounds to manufacture fabric that is used to make clothes, shoes, bags, and other fashion items. Many companies have started embracing this new technology. But before we look at these companies, it is important to understand the benefits of using coffee grounds.
The benefits of using coffee grounds in the manufacture of clothing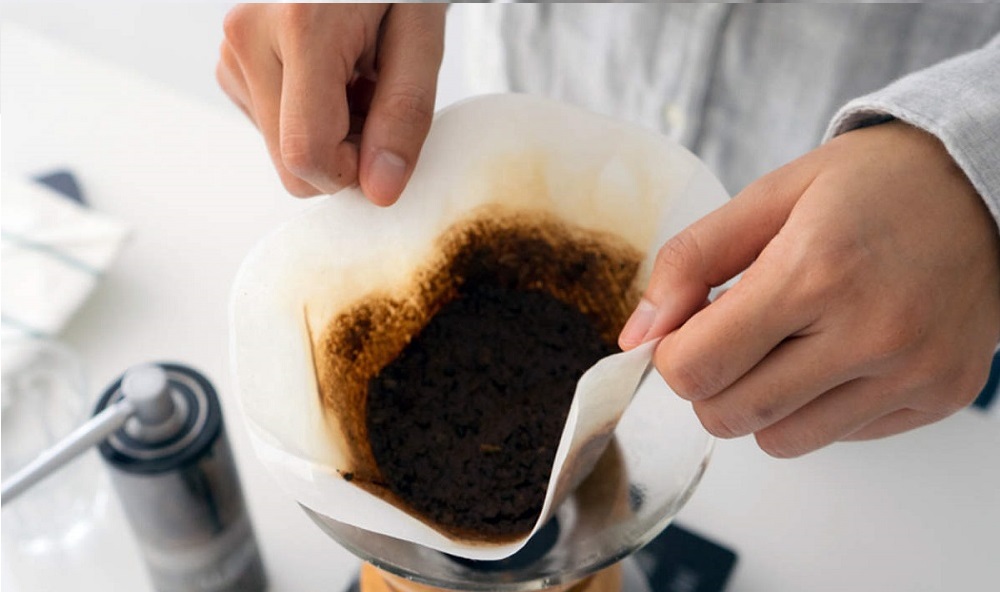 One of the main reasons for using coffee grounds is sustainability. Coffee grounds are readily available from coffee vendors such as global chains like Starbucks and local coffee shops. Usually, these grounds would have ended up as waste so sourcing is not costly. Some coffee houses will even give out the wastes freely so as not to incur the cost of disposing of.
Another reason for using this technology is that it takes advantage of the many benefits of coffee grounds and incorporates these benefits into the fabric. To begin with, clothes made using coffee grounds dry quickly. They can dry faster than those made from cotton. They also have odor control and sweat-wicking capability. The coffee fabric absorbs odor and moisture from our body through the finely embedded coffee fibers leaving our bodies feeling dry, cool, and odorless.
This fabric also offers UV protection by reflecting the dangerous UV rays. Studies show that coffee ground material offers 5 times higher protection compared to cotton. No wonder activewear and sports clothing companies have been quick to incorporate this fabric into their collections to enhance their apparel. Also, coffee grounds fabric is more eco-friendly compared to conventional fabrics such as cotton. To start with, coffee fabrics are easy to clean and do not require any detergent. Also because they are anti-odor, you can wash them less often than other fabrics. As well, coffee grounds are 100 percent biodegradable meaning the fabric can be composted and is not harmful to the environment.
In addition, it is less water-intensive than other materials. To put this in context, it takes close to 3,000 liters of water to produce enough cotton for just one shirt. Lastly, coffee grounds fabric requires lower-temperature treatment compared to other materials. This reduces carbon emissions and contributes to a greener planet.
How coffee grounds are used in clothing?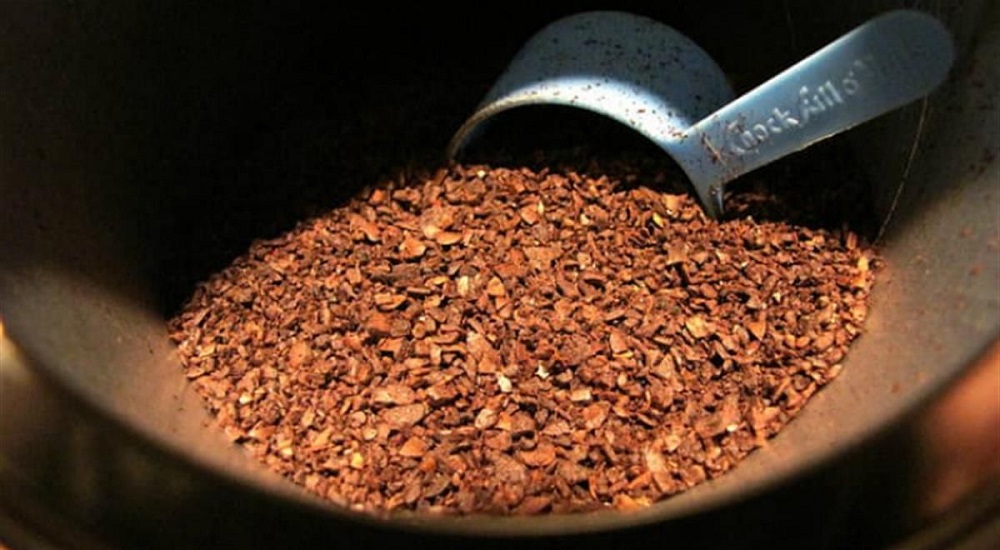 To turn the coffee grounds into a piece of fabric, they are rinsed in cold water and then dried. After that, the mixture is sieved to isolate particles of different sizes. This mixture is then treated to remove the aroma and other organic contents like oils.
The final mixture is then processed in a high-pressure environment and converted into yarn, which is woven into clothing. This resulting fabric is often combined with more traditional materials like nylon or polyester from recycled bottles to make a high-quality fabric that is more versatile than other materials. This fabric is used in the manufacture of clothing items such as T-shirts, jackets, hoodies, pants, and other types of apparel. These clothing items come with the benefits mentioned earlier meaning coffee grounds offer better value compared to conventional materials like leather and cotton.
Activewear in particular has benefited greatly from coffee grounds technology. When people are taking part in sporting activities, they sweat a lot and the body releases a lot of odor. Also, most sporting activities happen outside in direct sunlight. Coffee grounds fabric offers a solution to most of these problems. The natural deodorizing qualities ensure that you don't have to worry about body odor when working out. The material also soaks up sweat and dries quickly leaving your body dry and cool. The coffee material also acts as a shield against harmful UV light. This is why this fabric is ideal for sportswear and outdoor clothing.
Apart from the manufacture of clothing, the fabric containing coffee grounds is also used in making bedding and other types of house furnishings because of the fast -drying and anti-odor capabilities. However, items made from coffee grounds are slightly higher priced compared to those manufactured using other materials. But as technology continues to be refined, the price is bound to come down.
Companies producing clothes using coffee grounds
Here are some of the fashion companies that are using this new technology in the manufacture of different types of apparel;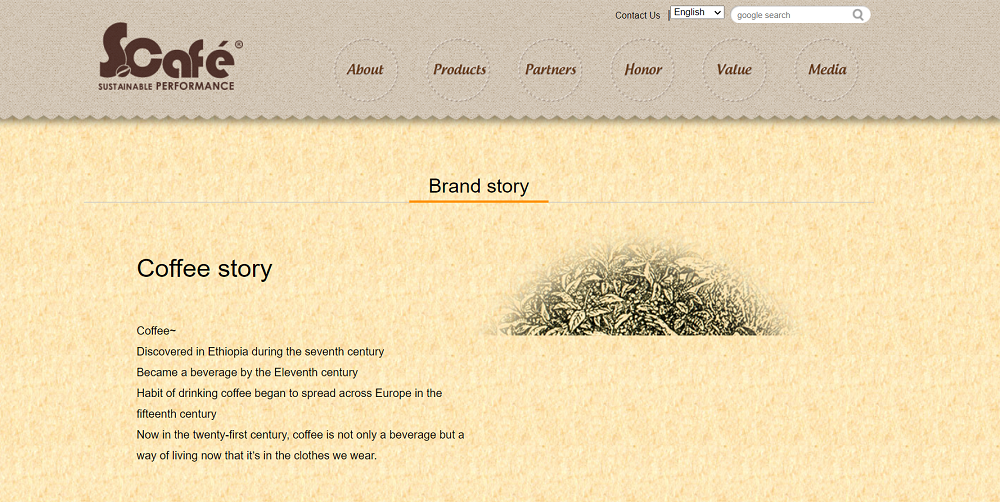 Singtex is a Taiwanese textile company known for its textile innovations and is the pioneer of using coffee grounds in the manufacture of apparel. Singtex was the first company to develop an eco–friendly fabric from coffee grounds in 2008. The general manager of Singtex, Jason Chen, came up with this idea while at a coffee shop where he learned about the deodorizing effect of coffee beans. Realizing that coffee grounds from large retailers of coffee such as Starbucks were usually dumped as waste, he decided to collect these wastes from coffee vendors and transform them into clothing material.
He decided to bring together a team of innovators and environmental experts to see how they could use coffee grounds to make clothes. It took him and his team over four years but eventually they were able to find a way of incorporating coffee grounds into yarn. So far Singtex has partnered with hundreds of local coffee shops to collect their used coffee grounds. This has provided the shops with an alternative way of disposing of their waste, while for Singtex, it has become a cheap and sustainable way of getting raw materials.
They gave this new product the name S.Cafe. They have developed many other products that incorporate coffee grounds. They have even created fabrics that combine coffee grounds with recycled polyester and spun into yarn. These fabrics have all the features of coffee technology such as a quick drying time, anti-odor, and UV light protection. Since the company began operations, it has produced different kinds of products such as regular apparel, sportswear, footwear, and bedding. The company continues to innovate and to create more products.
Over the years, Singtex has shared this textile technology with many fashion companies around the world to make clothes that contain coffee grounds. In 2015, they teamed up with American Eagle Outfitters to create a line of jeans. They have also worked in partnership with Timberland to create innersoles that are anti-odor for the Timberland boots. Other leading fashion companies that have created products in collaboration with Singtex include Hugo Boss, Patagonia, Puma, and The North Face. Singetex is also working with coffee farmers to help them turn their coffee waste into clothing. For example, the Colombian Federation of Coffee Farmers has been able to produce clothing using Colombian coffee. Singtex collaborated with Café Buendía, which was dumping over 20 tons of coffee grounds daily, to make clothes that were later sold to the local market. Singtex says that this coffee-to-clothes or trash-to-cash model of business can be replicated anywhere in the world.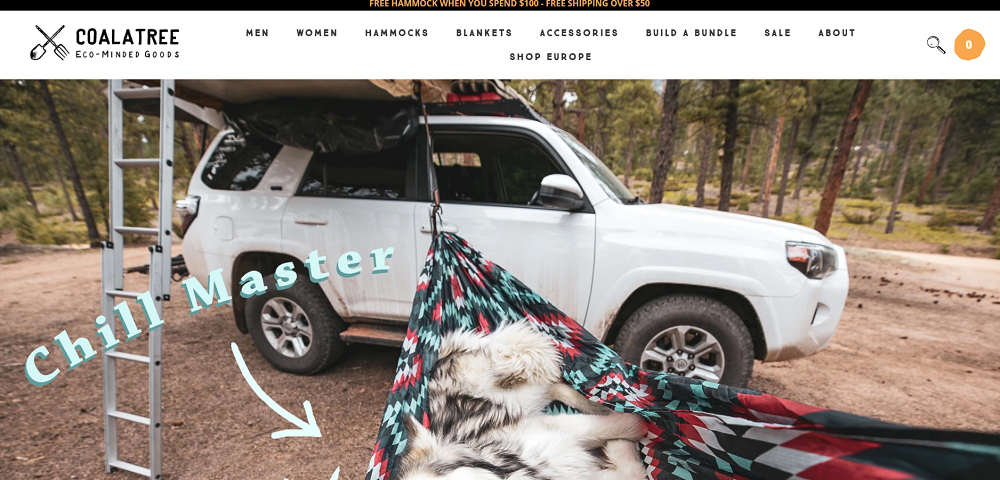 Coalatree is an apparel company based in Utah that designs eco-friendly gear and clothing for outdoor life and adventure. The company launched its first line of clothing in 2010. All their products are sustainably produced. They have a coffee collection comprising of shirts, decaf denim, joggers, and sweatshirts which are made from recycled coffee grounds and plastic bottles. They make these items by mixing melted coffee grounds with plastic to create the fabric. Coalatree says the manufacture of a single shirt uses 3 cups of coffee grounds and 10 plastic bottles.
Just like the other products discussed before, these clothes have all the wonderful features of coffee fabric technology such as water-resistance, odor-absorption, and fast-drying capability. Because the coffee grounds are part of the fabric and have not been chemically added, all these performance features are permanent and will not wash out. You can expect the clothing to offer you quality service for a very long time.
Other additional features of this coffee collection include secure zippered pockets for the joggers and hoodie. This is an important feature in outdoor clothing because it allows you to safely store your valuables as you go about your adventure without worrying about losing them. The hoodie also has headphone ports, thumb openings and can even fold into a pillow. The fabric is also soft, cozy, and comfortable. The company uses a lean manufacturing process that produces very little waste. Also, it employs other sustainable technologies such as gray water recycling, waterless dye, and the use of solar power energy. Their entire chain ticks the eco-friendly box. You can order these products directly from their website.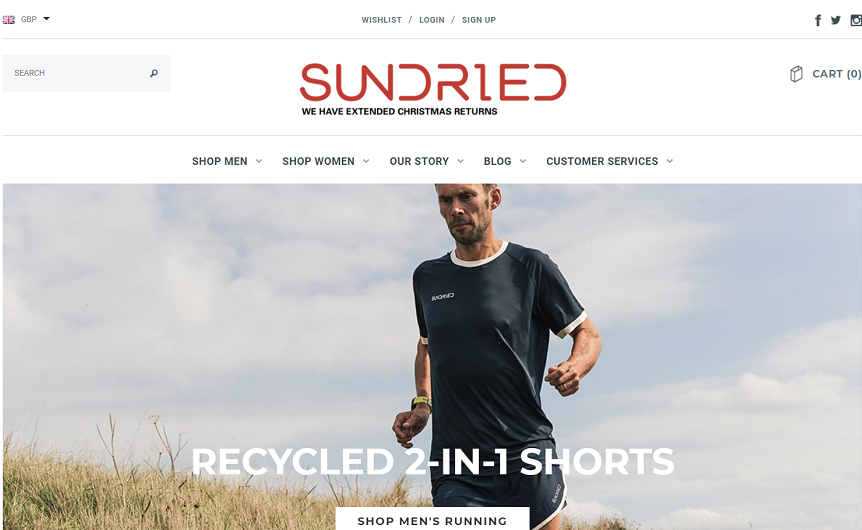 Sundried was founded in 2015 by a former triathlete Daniel Puddick. He noticed that there was a lack of affordable, quality triathlon clothing in the market and so he put together a team of athletes and professionals to start the company. The founders share a passion for both sports and the environment and therefore all their products are eco-friendly and are sustainably-sourced.
Currently, the company is leading the way when it comes to sustainable activewear production using eco-friendly materials and methods. Their sports apparel is made by combining coffee grounds and recycled plastic bottles. Their products include underwear, swimming gear, and jackets. The company also offers a line of technical fitness t-shirts that are manufactured using biodegradable fabric. Their apparel helps to enhance performance and is perfect for anyone who is involved in active sports such as mountain climbing, weight lifting, and running. The clothes are designed to optimize training and enhance endurance to help the wearers hit their fitness goals.
Sundried acknowledges that they borrowed this coffee fabric technology from Singtex, the Taiwanese apparel manufacturer. Incorporating it into their apparel production has helped the company to produce excellent activewear and gym apparel with some outstanding features such as anti-bacterial capability, UV shield, temperature regulation, and body odor protection. These features are very important in performance clothing.
Sundried has partnered with popular athletes and sportsmen who are passionate about the environment. They are involved in the testing of products and also act as brand ambassadors helping in raising environmental awareness and marketing products.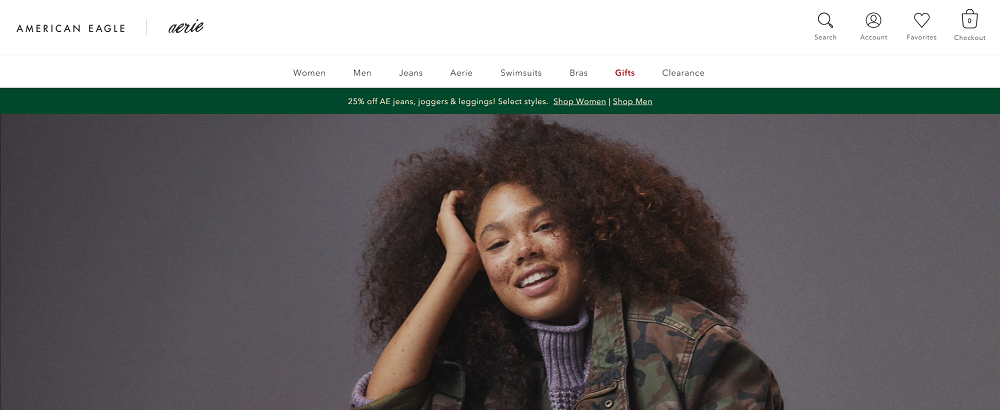 The American Eagle Outfitters, a clothing retailer, is another company that is focused on sustainability and environmental protection. In line with this, the company, which is the largest jeans manufacturer in the world, launched a jeans collection made using fabric with an unusual ingredient: recycled coffee grounds. This collection was created in partnership with S.Cafe. According to the company, each pair of denim jeans contains approximately 2 grams of coffee grounds. The addition of coffee grounds gives extra performance features to the denim collection.
American Eagle says that their jeans do not have to be washed often because of the anti-odor capabilities of the coffee grounds which eliminate any smells. For this reason, the jeans can be worn for longer than usual before washing. This makes the fabric last longer, reduces your laundry work, and offers value for money. It also has a positive effect on the environment.
Also, the jeans provide ultraviolet protection because of the embedded coffee fibers. If you are worried about the smell, that has been taken care of as well. The coffee grounds are usually treated to remove the aroma allowing you to wear your jeans with pride. There is a collection for both men and women and you can buy the jeans from their physical shops or online store.
Conclusion
It is clear that the future of fashion lies in responsibly-sourced materials and eco-friendly practices. Therefore the adoption of coffee grounds as a material for making clothing is timely and paves the way for more innovations of that nature that will promote quality, sustainability, and help in environmental conservation.