What do you know about sweatpants besides being your go-to loungewear? If you've been keen you must have noticed that their popularity has greatly increased. You can almost always spot someone on them every street you turn to. They are speedily overtaking the good old jeans that took over the world in the last decade. If anything, they have become the new jeans. It's hard to imagine there was a time sweatpants were considered the lazy man's wear.
Karl Lagerfeld, the late designer once said, "Sweatpants are a sign of defeat. You lost control of your life so you bought some sweatpants." If only he was alive to see how popular and in style they have grown to be. They are no longer a sign of defeat but of freedom to choose comfort over style and not being ashamed of the choice. So what can we really say is the reason for its current trendiness?
Let's look at how far it has come for us to truly understand why it's become such a hot fashion trend.
History of sweatpants
Sweatpants go by so many names around the world- tracksuit, jogging bottoms, track pants, track daks, joggers, tracksuit among others. Sweatpants have come a long way since 1920 when they were first created by Emile Camuset, the founder of Le Coq Sportif. They were first introduced as sportswear for their comfort and high ability to absorb sweat.
These simple pants first dominated the men fashion industry during the French Revolution before spreading to the rest of Europe and finally the rest of the world. They were only available in gray color and were intended for the athletes because of how comfortable they were. And as the world became more and more conscious of their health, the popularity of these pants grew by the day. By 1980, they were no longer a reserve of the athletes but had been adopted by gym users and eventually hit the homes as leisurewear.
Fast forward to 2020 and sweatpants are the trendiest pants. They have overtaken the jeans, khakis, and the corduroys. They have now fully evolved and are available in different colors, come in a variety of cuts, waistbands, silhouettes, and brands.
They have moved from the tracks and gyms to now be worn on red carpets, in offices, entertainment joints, and in casual events. According to the Women's Wear Daily in their article, "Are Sweatpants the Only Fashion Trend in America Right Now?," the current over the surge of sales in the sweatpants industry has largely been contributed by the COVID-19 lockdown.
The article explains that while the COVID-19 anxiety caused a drop in sales for the majority of fashion stores, the sweatpants stores were an exception. They are making the highest sales turnover than at any other time. Even fashion newcomers like Suzie Kondi recorded a double sales record during their first week of launching their terry cloth tracksuits. On the Net-a-porter site, sales went as high as 40%. Russel Athletic too recorded a double record sales in the women sweatpants category. Vuori was also not left behind, on their eCommerce site, they recorded a 50% increase in sales of their sweatpants.
This goes to show that the biggest reason for the current uptake of the sweatpants is no doubt the COVID-19 lockdown. Obviously, because people have nowhere to go to or no reason to dress up and so sweatpants are the best next option.
And why not?
They are more than comfortable, are warm and super cozy.
The different types and styles of sweatpants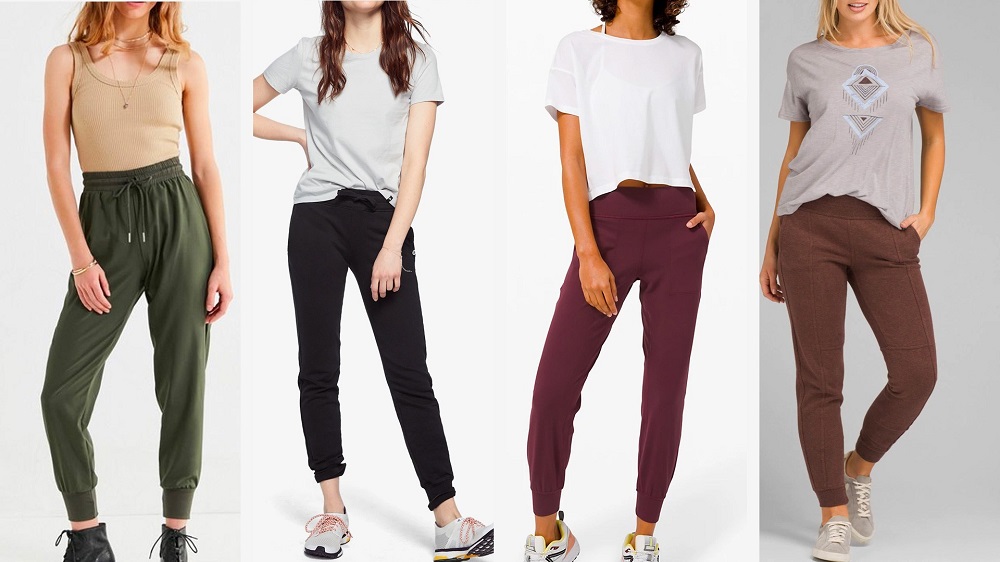 Originally sweatpants were made of cotton but are now available in a variety of materials such as nylon, polyester, spandex, polypropylene among others. Even though they come in different styles, you will notice that all these styles fall into two categories- slim fit and the traditional loose fit.
The slim fit sweatpants are often made of a lighter material and have an elastic cuff around the ankles. They are body-hugging and tend to be more stylish for the outdoors. The traditional sweatpants are what you know as gyming pants or lounge pants. They are loosely cut and have plenty of room for extra comfort and movement.
From the two cuts, there are further variations of sweatpants. We have the cropped sweatpants. These are shorter than the regular sweatpants, more like the capri pants. They reach mid-calf. We have the pocketed sweatpants to store your one-two items when out and stripped sweatpants. There are sweatpants with a drawstring on the waist and some with an elastic waistband. We also have ones that have cuffs on the legs and those that are tapered. Some have an elastic cuff on the ankle.
Finding the right sweatpants
With all these different types and styles of sweatpants, it can be impossible to know what to choose or what will look great on you. Don't panic though. Keep in mind that the key to rocking the perfect sweatpant is finding the best pant for your body type. If you have a petite body, consider going for pants with a fitted waistband and none or minimal pleats.
If you are short, go for pants with no elastic cuff but tapered. This allows you to roll up the pants as much you needed for a great fit. If you are tall, a sweatpant with a high waist will accentuate your height. Other considerations when buying sweatpants include:
The purpose. There are sweatpants specially designed for working out and others for lounging (leisurewear). There are also sweatpants designed to be worn as official wear. It's important that you consider the purpose for which you are buying the pants so that you can choose the right one.
Style. It's important to consider the style that suits you best. We have covered the different styles available in the earlier section.
Waistband. Sweatpants can either have an elastic waistband or a drawstring waistband. Drawstrings allow you to adjust the waist size as you wish. While elastic are not adjustable, they conform to the shape of your body better than a drawstring waistband.
Length. Also as mentioned, sweatpants come in different lengths. We have the basic full length, the mid-length, and the mid-knee length. Your choice of length will depend on the purpose. If going for a workout sweatpant, something above the ankles will be most ideal not to distract you when working out. If buying a sweatpant to beat the cold, a basic length with an elastic cuff would be most ideal. The cuffs prevent cold from getting into your legs and thighs.
Material. Depending on the material, some sweatpants are more breathable and absorbent than others. Sweats made from fleece may be warmer but not absorbent hence not great for working out or warmer months.
How to rock sweatpants and look stylish in them?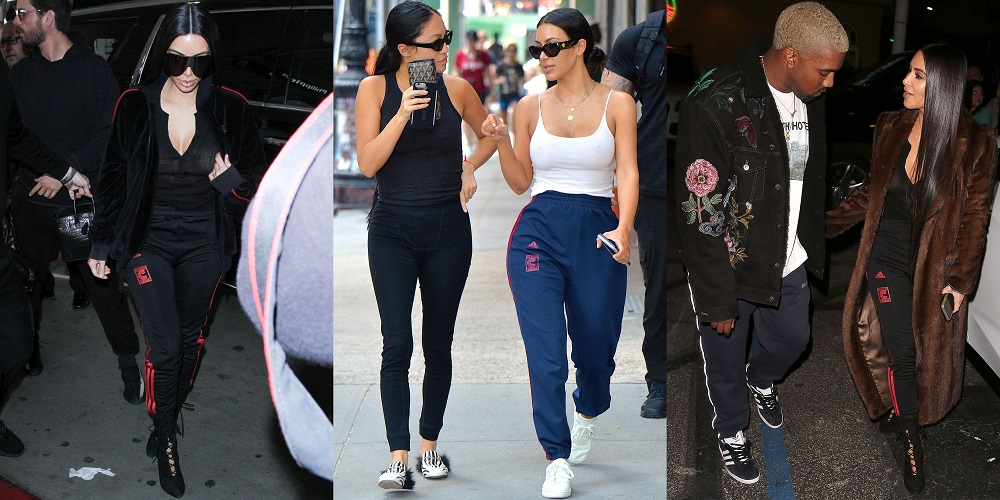 If you want to rock your sweats outdoor, go for fitted instead of the baggy ones. Baggy sweatpants are only for lounging indoors or taking the trash out. Fitted sweatpants look classy and are easier to style to fit different occasions. For an elegant look go for satin sweatpants particularly from J Brand. For an even more dramatic look, pick a bold print satin sweatpants like the leopard print. Me and Em's have really nice slim fit satin sweatpants. For a chic look go for Faux leather sweatpants. You can find them in different shades from normal black to deep red. Check out Zara's collection of faux leather sweatpants. You'll be spoilt for choice.
If dressing up for a glitz and glamour party, choose a sweatpant with gold or silver sequins. Pinko has a good collection of sweatpants with gold sequins. For a dressed-down look, preferably for a weekend, you can pair up your sweatpants with a white tee and flat boots. An ankle boot or a chunky heel would also be perfect for a weekend look. A good pair of sneakers would also make you look fancier.
Ditch the sweatshirt and layer up with a blazer or coat instead for instant oomph. A denim jacket or a belted long trench would be great options to dress up the sweats. Keep it simple when pairing and matching colors. A monochrome look works best. If wearing black sweatpants, a black tee or top would look fancier than a colored printed one.
You can also glamourize your sweatpants with an accessory. A stand-out piece of jewelry or a classy handbag is a great way to bring out the glam. Whenever you are in doubt, go for black sweatpants. You can hardly go wrong whichever way you choose to layer it or accessorize. You can wear it with any type of shoe from chunky heels, pointed pumps, or ankle boots.
I hope you now understand how far the sweatpants have come and why they have suddenly become a hit in every American's wardrobe- male or female. They are no doubt comfy, cozy, and eleven though require more fashion skills to layer up and pair, they are certainly stylish. We can only hope, they are not just here for a season but for some decades. And hopefully one day the likes of Karl Lagerfeld will see it worn to the black-tie events just like the jeans.