Giorgio Armani S.p.A, simply known as Armani, is one of the leading fashion houses in the world. It is named after its founder and owner Giorgio Armani who founded it in 1975. Armani deals in exclusive high-end clothing and other fashion products such as accessories, perfumes, cosmetics, eyewear, and bags. It is famous for its superior designs that portray class, quality, and exclusivity.
The formation of Armani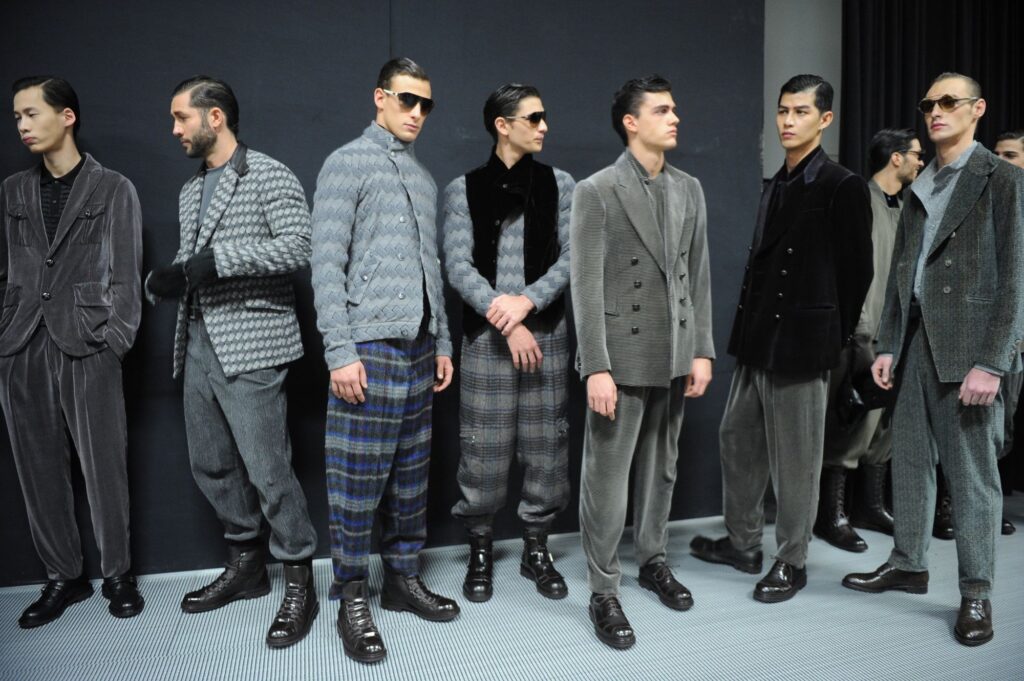 Giorgio Armani, the founder, is one of the most influential and successful fashion designers in the world. He was born in Piacenza, Italy on July 11, 1934. His family later moved to the capital, Milan, where Armani attended medical school at the University of Milan for three years. However, he dropped out and joined the army for his mandatory military service. It is while at the army that he discovered his passion for fashion and made the decision to pursue it as a career.
His fist job in fashion was as a store attendant at the La Rinascente department store. He was in charge of the men's wear department. While working here, he gained a lot of insight in marketing that would later come in handy when he started his own fashion company. After seven years at La Rinascente, Armani left to work as a men's wear designer for Nino Cerruti, who was the owner of a cloth manufacturing company called Hitman. He also worked as a freelance designer for other clothing manufacturers around Milan.
Armani proved to have a thorough understanding of fabric and design and Nino Cerruti charged him with the responsibility of restructuring Hitman's approach to manufacturing. He worked with Hitman for six years. In 1973, a friend of his, Sergio Galeotti, advised him to open his own design office. Armani heeded Galeotti's advice and opened a design office in Milan. For the next two years, he continued working with different fashion houses as a freelance designer. He started gaining recognition for his work and the international fashion press at various runway shows was highly impressed with his designs.
Having acquired sufficient experience, Armani decided to start his own fashion house. He partnered with his friend Sergio Galeotti to form Giorgio Armani S.p.A in 1957. Galeotti ran the business side of the firm's operations while Armani ran the creative side. That same year, he produced his first ready-to-wear collection for men. The following year, he launched a women's line as well. His collections were well received by fashion enthusiasts. In the first year alone, the company had a turnover of 1 million dollars and this marked the beginning of Armani.
The early years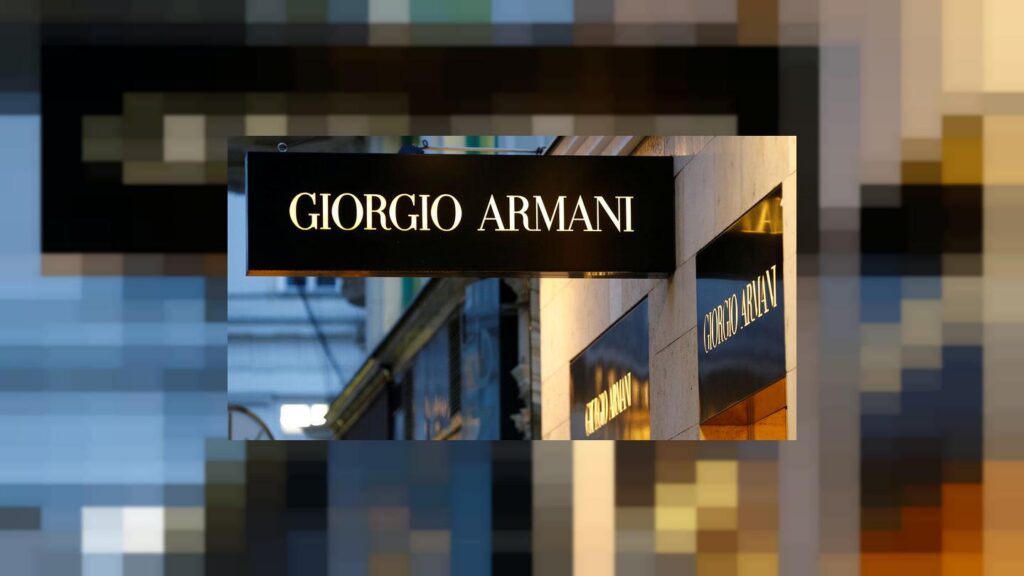 Armani's work as a freelance designer shaped his approach to clothing design. He introduced new bold designs that were markedly different from the traditional designs, which he considered outdated. In fact, he was described as the 'postmodern designer' by Italian fashion press because of his radically unstructured designs. He invented new looks that gave men and women a new fashion identity that later came to be associated with the Armani brand.
One of his foremost innovations was his deconstructed suits. He removed the padding from the traditional men's suit to make it more comfortable and elegant. This was a novel idea then and it brought him and his fashion house a lot of positive publicity. Other designers would later copy this style. He also transformed women's wear by introducing elegant pantsuits that were a break-away from the traditional floral dresses of the 1960s and 1970s. He is credited with softening men's wear and modernizing women's wear. This shaped the future of design in the Italian fashion industry.
The most defining piece from this early period is the Armani jacket which continues to be a centerpiece of his creations. It was popularized by celebrities such as Diane Keaton who wore it at the Oscars in 1978. Every year, Armani has made a few changes to the material, proportions, and colors, but the design has remained the same. This jacket continues to be popular.
With time, Armani came to be associated with an authoritative casual look. Both the designer and his brand succeeded in providing new images of how men and women should dress by offering contemporary, unique but accessible products.
Another key development that spurred the growth of Armani was a strategic partnership in 1978 with the biggest Italian clothing manufacturer then, Gruppo Finanziario Tessile (GFT). This partnership allowed Armani to scale the production of its products and enabled the firm to meet the growing demand from the European market and other international markets.
By 1979, the fashion house was quickly becoming a household name in Europe. However, it barely had a presence in other big markets such as the United States, which was considered a huge, ready market for designer clothing. This changed in 1979, when the founder established the Giorgio Armani Corporation, which made it possible for the brand to begin production for the United States market, and consequently, elevated Armani into an international brand. The United States market would later become the gateway to other international markets.
To create awareness for the brand among American customers, the designer embarked on several promotional campaigns. He forged a crucial partnership with Hollywood in order to take advantage of the thriving movie industry. He started designing costumes for actors to wear in movies.
The first American to dress in Armani clothing was actor Richard Gere in the 1980 movie American Gigolo. This created a lot of demand for his clothes in the US. He continued this partnership with the film industry and designed costumes for over a hundred films including very popular films such as the hit TV series Miami Vice (1984-1989) and others like The Untouchables (1987), Batman, and Pulp Fiction, both released in 1989.
Also, many movie stars and celebrities loved the Armani designs and started wearing them to red carpet events, which raised the profile of Armani even further. The brand started being associated with sophistication and success, a reputation it has cultivated and maintained to this day.
Armani also partnered with many music stars of the 1980's such as Eric Clapton and David Bowie by designing costumes for their music tours. This helped Armani to cement his name and brand in the popular culture.
The evolution of the Armani brand architecture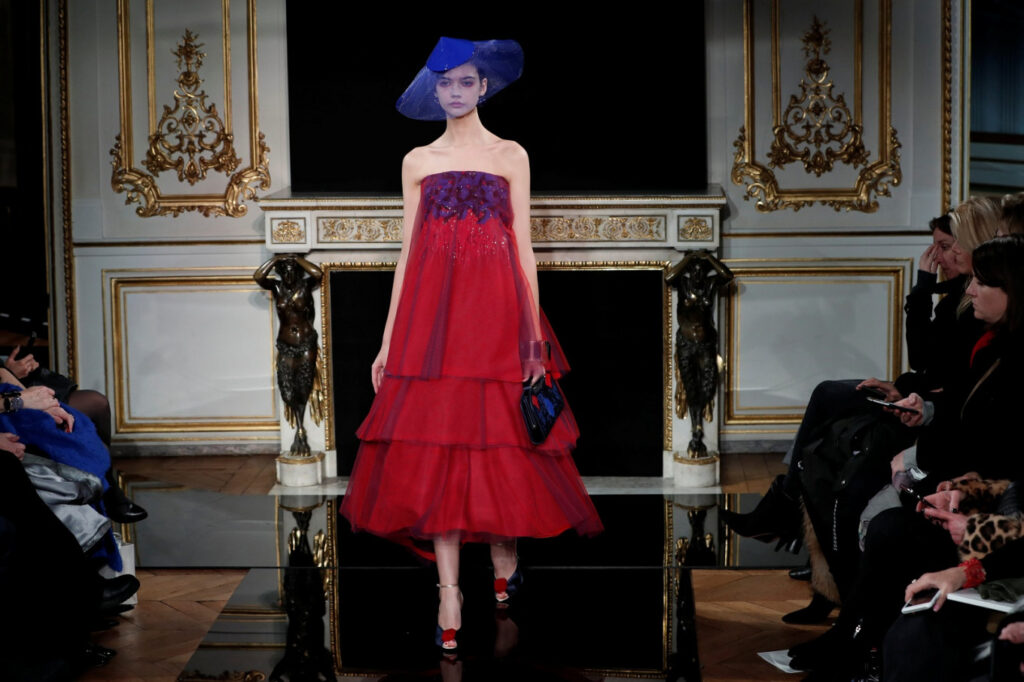 During the 1980s, Armani embarked on a drive to expand its brand architecture to fit the different market segments by introducing new lines of products. Some of the early product lines include the Mani collection, which was meant for the United States market. There was also another line, the Borgonuovo 21, which was targeted at the high-end segment. The fashion also created Armani Jeans, Emporio Armani, and Giorgio Armani Underwear and Swimwear.
The Emporio Armani line was created for young people and those who desired a youthful look. It offered fashionable and contemporary designs that fit their tastes and needs at an affordable price.
In 1982, the company launched The Giorgio Armani Le Collezioni, which was simplified to Armani Collezioni. This was the diffusion line of the main Giorgio Armani brand. It provided a similar level of stylistic quality but at a cheaper price in order to make it more accessible to many people. It had a price point that was about 20 percent below the main Giorgio Armani line. The brand also launched Armani Junior for infants and children to offer them the same quality of products enjoyed by adults. The first exclusive Armani Junior store opened in 1986 in Milan.
In 1988, the company signed a licensing agreement with the French Cosmetics company L'Oréal to produce perfumes. This agreement was later renewed to run until 2050. By the end of that decade, Armani had also introduced eyeglasses and home accessories.
The early 1990s also saw the introduction of new product lines such as home goods and sportswear. The fashion house collaborated with Reebok to create the sportswear line, which offered products for a wide range of sporting activities such as soccer, running, fitness, and golf.
In 2005, Armani launched its first haute couture line, Armani Prive, to compete with other already established fashion houses. Amani Prive was created to offer ultra-luxury wear for the red-carpet, gala, and award shows. This line was targeted at the ultra-rich and famous.
Over the years, the strong brand identity of Armani has helped it to get into other market segments. It has a home goods line called Armani Casa, which offers high-end furniture, textiles, decorative pieces, and other home accessories. Armani also offers a broad range of cosmetics such as make-up and other skincare products. There is also a gift collection consisting of branded chocolates, honey, tea, and biscuits. These items are of very high quality and are packaged to reflect the sophistication of Armani.
Armani also owns a chain of restaurants. These restaurants were introduced in order to take advantage of the cross-branding association and to attract customers who desired the Armani experience. The first Armani Restaurant opened in London followed by an Armani bistro in Florence, Italy in 1989. This venture proved to be a big success and, as of today, the company has over 20 restaurants across Europe, America, and Asia. In addition, since 2005, Armani has worked in collaboration with a Dubai property management firm to create and run Armani branded hotels and resorts in several major cities around the world such as Dubai, Milan, New York, Japan, and Hong Kong.
These different product lines and categories have helped Giorgio Armani to straddle multiple market segments and categories while raking in millions of shillings in profits. The brand has also demonstrated that its appeal goes beyond fashion.
Growth and expansion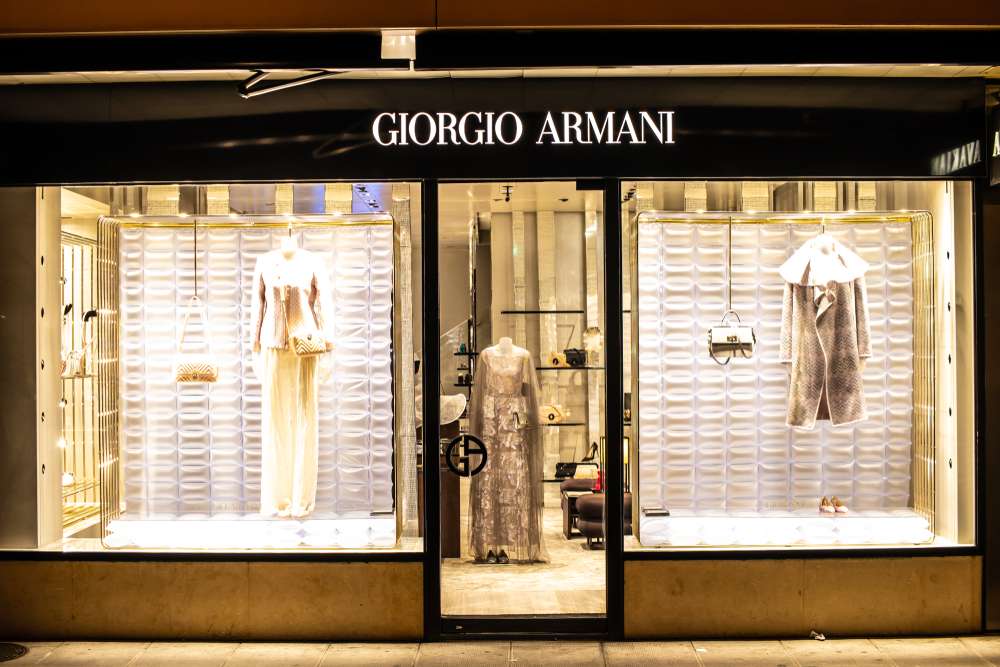 Sergio Galleoti, one of the two partners, passed on in 1985. This was a big blow to the fashion house. Galleoti had been responsible for the day to day management of the brand's affairs, which allowed Armani to focus on design work. Galleoti left him 50 percent share to Armani making the latter the sole owner of the fashion house. As a result, Armani was forced to play the dual role of designer and executive.
Although he had very little management experience, Armani shocked many with his business acumen. In 1989, he rejected a take-over attempt by Jeanne Lanvin, and later turned down similar offers by other international fashion conglomerates such as Gucci and LVMH.
In another smart move, he decided to focus on strengthening the production and marketing capacity of Armani instead of buying out his competitors like other fashion houses were doing at the time. Armani acquired controlling stakes in its manufacturers and suppliers including Antinea and Intai in1990. This gave the brand more control over the quality and distribution of its products.
In terms of its retail presence, Armani opened its first retail store in Milan then later opened other stores in Europe. Armani also moved quickly to capture the lucrative US mass market by launching the Armani Exchange (A/X) line in 1991. This line offered lower prices for its products compared to the main Giorgio Armani line.
The first Armani Exchange (A/X) store opened in New York with a goal to open up to 150 stand-alone A/X stores. However, by 1994, the project was proving to be a commercial failure forcing Armani to reconsider the move. Going forward, the company decided to maintain a very small number of such lower-priced stores so as not to affect the profit margins and the brand's attractiveness.
Armani also ventured into China in 1998. China was considered the new frontier for luxury shopping. The first store in Beijing was actually a small shop stocking their merchandise. As demand for their merchandise grew, the fashion house opened a larger store in 2004 in Shanghai, with plans to increase the number of stores across China and the Asia Pacific region to 40 by the year 2011. They also set up more locations across the world. Some of them were stand-alone stores while others were sections within department stores.
At the onset of the 1990s, the company's revenue was about 300 million dollars. It continued this steady growth and by its 25th anniversary in 2000, Armani had 200 mono-brand stores across the world and a turnover of 2 billion USD.
Today, Giorgio Armani is one of the strongest and most respected fashion brands in the world. It has over 500 exclusive stores and it continues to partner with major department stores around the world. It has a current market valuation of 3.1 billion dollars and has very many high profile people acting as the face of the brand such as Rihanna, the Beckhams, Rafael Nadal, and the soccer superstar, Cristiano Ronaldo.
Plans for the future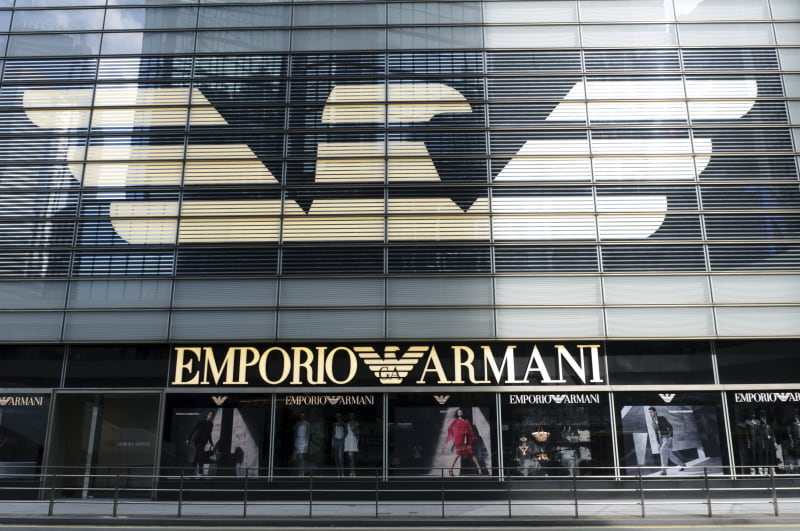 The growth of Armani is a demonstration of the power of leveraging brand equity. This has allowed it to not only dominate the fashion industry but also to transcend it, with investments in restaurants, real estate, and home goods. However, this presence in diverse categories and markets poses a huge risk because there is the danger of diluting the attractiveness of the brand. Therefore, Armani has to be strategic in its collaboration and investment choices so as to only take on projects that strengthen the identity and allure of the brand.
The brand is also facing the challenge of managing its many product lines. In order to maintain consistency, Armani scrapped two lines Armani Collezioni and Armani Jeans in 2017. This was part of strategic restructuring measures. Armani Collezioni was merged with the mainline Girogion Armani while Armani Jeans merged with Emporio Armani because they had similar designs and logos. The company also re-launched the Armani Exchange line in another strategic measure to simplify its portfolio. This saw the turn-over drop by 5% in 2016, but the line is expected to return to profitability in the near future.
Also, there are concerns over the brand's dependence on the leadership of its founder and sole owner Giorgio Armani. This model of operation is no longer sustainable and there is a need for Armani to increase its leadership pool for it to remain competitive in the ultra-competitive fashion industry. The future and continuity of the brand is also at risk because the succession plan is not clear.
To address these issues, Giorgio Armani announced in 2017 that he had set up a foundation that was responsible for ensuring the stability of the company in the future. The foundation is made up of some of his heirs who work within the company. Giorgio Armani also insisted that the firm would not be acquired by larger conglomerates or foreign investors like what had happened to other Italian fashion houses over the recent past.
All in all, the Armani brand has stood the test of time and the growth potential is still there. It continues to have great contemporary appeal among the new generation of fashion enthusiasts because of its sophistication and focus on quality. It is now incumbent upon the leadership of Armani strategically to leverage on its strong brand equity in order to continue creating new growth opportunities.